U47 complete mechanics
(NOT AVAILABLE ANY LONGER)
(click any image to see it in enlarged resolution)
(left:) our reproduction parts (right:) Neumann U47

The kit includes:
all mechanical metal and plastic parts and mounting parts
original tube socket for the Telefunken steel tube (VF14/EF14/UF14/EF12 etc.)
6-pin Tuchel male connector
complete capsule holder for M7 or K47 capsule (please specify)
chromed top, long or short body available
The kit does NOT include:
capsule
wiring and electrical components
transformer (BV8 transformers available at my "Transformer" section)
tube (i.e. Telefunken "steel-tube")
cable, power supply, shockmount accessories
All parts (apart from the tube socket and the 6-pin Tuchel connector) are unused, either original NOS or precise copies of the original part, hand-manufactured in a limited quantity only.
Great effort has been spent into development of the kit and each individual part is completely interchangeable with the original.
If you have access to an old Neumann U47 to compare: just remove the 3 screws at the top and 1 at the lower body. Take the top grille and body tube off the chassis and compare the microphone mechanics:
You will see that the only difference to the original is the missing "Neumann" batch on the outside body (for obvious legal reasons!) - and of course the fact that your original U47 will look old and used...!
Private users please note:
The kit can be used to restore original Neumann U47 back to absolute showroom condition. If you are considering to use the kit to build a fully authenticlooking new U47 reproduction, please be aware that extensive experience with tube microphones, in particular U47 and very good technical knowledge is essential to get reasonable results. If you even plan to build a fully authentic sounding U47, you really need to know what you are doing... Don't forget that there are some authentic looking U47 "clones" around, which however do not have the magic of the original. Please do not ask me for the "secrets"... I cannot "transfer" my 25 years experience with the kit...
Please understand that we cannot provide "how-to-build-a-U47"- instructions or complex technical information.
All parts are available as the complete kit only.
The mechanical kit is made to order and has a delivery time of about 4-6 weeks.
(Please note: Currently we are unable to take any new orders.)
Please contact us for further information, price and availability: CONTACT
---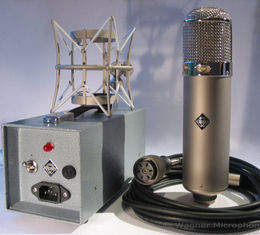 If you are more after a complete U47 reproduction, fully "plug-and-play", all handmade from someone who has a long list of international references, spending the last 25 years restoring and servicing Neumann U47.... check this out:
www.wagner-microphones.com

---
All rights reserved (c) 1997-2006 by Supersonic Communications and Wagner Microphones (Sydney/Australia).